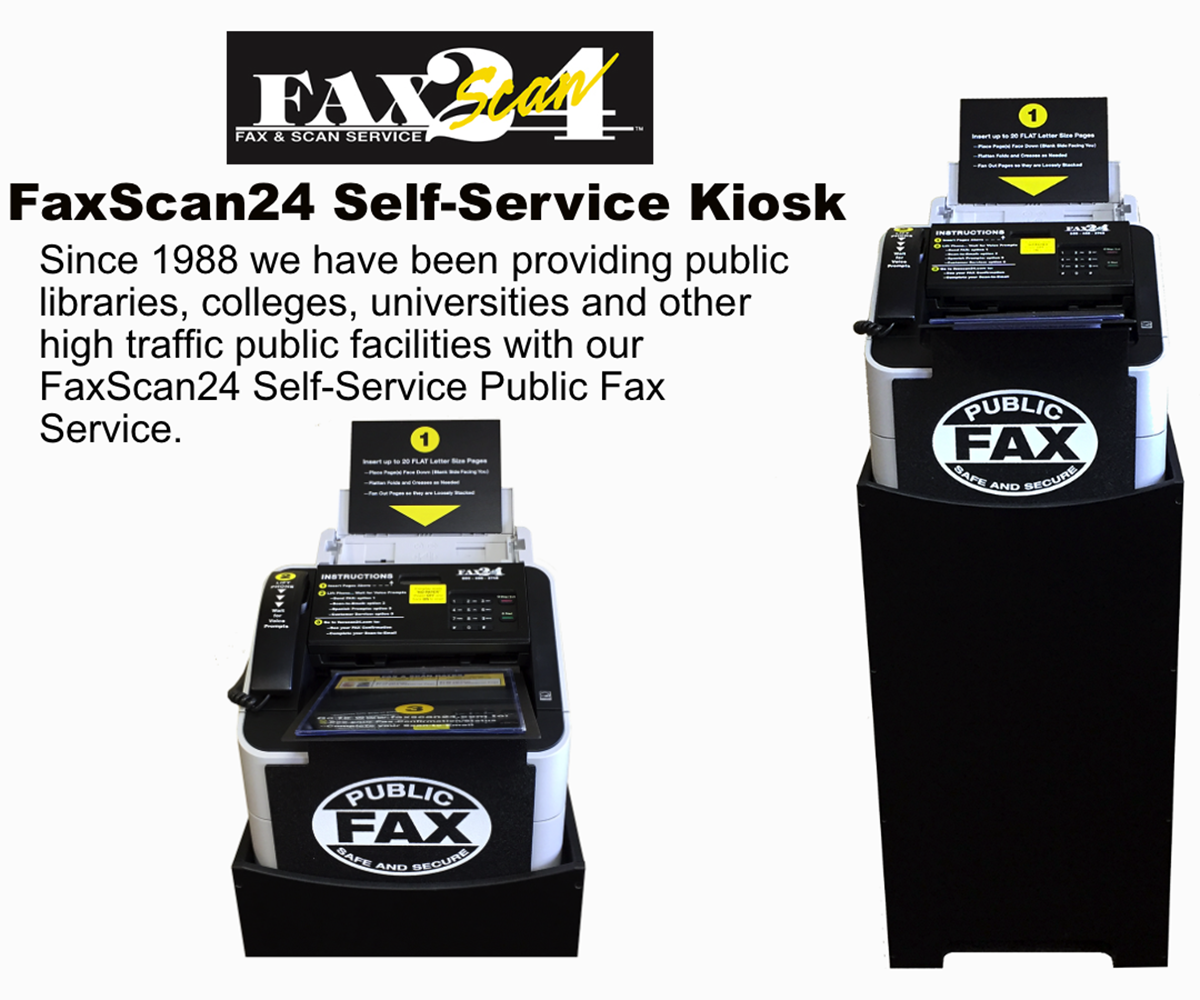 No Library Cost
No Staffing Required
Self Service
Send Faxes - Scan to Email
FaxScan24 F.A.Q.'s
1
How much will it cost our library?
Nothing, We own the equipment. We take care of the rare repairs and paper replenishment.
2
Do we need to staff the FaxScan24 Kiosk?
No. For most patrons, this is truly an easy self-service experience. When a patron needs to send a fax, they are instructed to simply lift the hand-set on the FaxScan24 kiosk. They will then be treated to easy-to-follow Voice Instructions that will guide the patron step-by-step to the completion of their fax transmission. If the patron has questions, they can call for customer service on our toll-free number that is posted on the kiosk.
3
Do we need a dedicated phone line?
No. If your library has a low-use phone line available, then that could easily be shared with the FaxScan24 kiosk. Since the average kiosk is used 3 times per day, potential phone conflict is minimal.
4
Who pays for the long distance charges?
FaxScan24 pays. As soon as the hand-set on the FaxScan24 kiosk is lifted, the kiosk is programmed to automatically dial our toll-free number into our voice-automated service where the patron will hear the step-by-step instructions. The hidden toll-restrictor makes it impossible for anyone to make a direct-dial call. In conclusion, all long distance calls are automatically billed to our own toll-free phone service account.
5
How does a patron pay to use the FaxScan24 service?
The FaxScan24 Fax Service accepts the VISA, MasterCard, AMEX & Discover credit and debit cards, as well as our own FaxCash Prepaid Fax Cards.
6
What other libraries are using FaxScan24 Service?
Since 1989 many public libraries from around the country have been providing our FaxScan24 Public Fax Service for the benefit of their patrons. If you would like some references, please let us know. Contact us by calling toll-free at
1-877-FAX-VEND
or
Email
To Find a Library or public FaxScan24 Service location near you visit our locations page.
Click Here >>>
With your approval, we will have your library FaxScan24 operational within no time.
For a six month trial, please contact us by calling toll-free at
1-877-FAX-VEND
or
Email
8
Getting Started and Setting Up your FaxScan24 Kiosk?
"Working with John Davey is a pleasure. He returns phone calls and e-mails promptly.

His fax service is easy to use, trouble-free and requires no maintenance by the library staff.

Dealing with Televend is one of the better vendor relationships we've ever had."

—Diane Durette

Welles Library

Newington, CT

Imagine how it feels for library staff to say "no" to their patrons every single day? It hurt, a lot. Since installing a Fax24 public self-service fax machine, we can now say "yes" to that simple question: "can I fax something from the library?" The Fax24 machine is perfect for our patrons, and we are evidently filling a need on campus. Last fiscal year, more than 1600 faxes were sent from our library; that's an average of 134 a month. It's so nice to be able to say "yes" again. 

M. Teresa Doherty

Head, Information Services

VCU Libraries